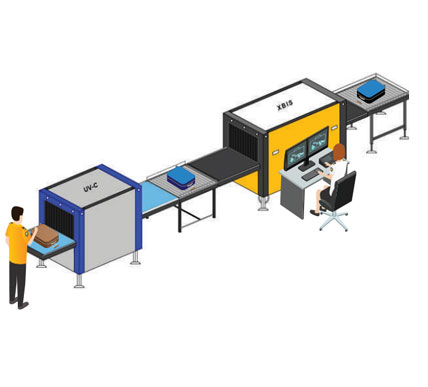 UV-C DISINFECTANT CHAMBER
The outbreak of COVID-19 has changed the way we live. In order to maintain services & ensure heath and safety of staff & customers, organizations are looking for effective solutions for disinfection of objects, gadgets & surfaces.
The UV-C Disinfectant units are engineered to offer protection against unknown infection causing micro-organisms like bacteria, fungi, viruses & spores, including the COVID-19 virus by using Ultra Violet (UV-C) rays.
The Disinfectant-Chambers are available in various configurations to be used in conjunction with various tunnel sizes of X-Ray Baggage Scanners (XBIS) & can also be used INDEPENDENTLY.
What is UV-C & how it works?
UV has been used many years for disinfection of drinking water, air, treatment of fruits & vegetables, etc. UV has been used within the healthcare industry to disinfect Operating Theaters, Room surfaces. The use of ultraviolet light for surface disinfection has increased due to its ease of use, short dosage times & broad efficacy.
Ultraviolet light exists within the spectrum of light between 10 & 400 nm. The germicidal range of UV is within the 100 - 280 nm wavelengths, known as UV-C, with the peak wavelength for germicidal activity being 265 nm.
UV-C is strongly absorbed by the DNA & RNA of micro-organisms thus disrupting their DNA & RNA structure, rendering them inactive. A cell that can't reproduce is considered dead; since it is unable to multiply to infectious numbers within a host. Our disinfectant chamber uses the above principle thus eliminating the risk of unknown infections.
Effective : 360° UV rays coverage to all object surfaces
Internal surface coated with Aluminum for maximum UV reflection
Fast : Can Disintect objects in minimum time to eliminate 99% bacteria & viruses
Safe : Operational safety ensured
Environmental Friendly : No collateral damage to the environment of use
Cost-effective : No recurring cost of disinfectant chemicals
Low Maintenance
| | |
| --- | --- |
| Features | Motorized Conveyor Model |
| Conveyor | Motorized conveyor; can be integrated with XBIS conveyor |
| Effective Tunnel Sizes (W x H) in mm | 535 X 330 | 600 X 400 | 755 X 555 | 1000 X 1000 | Customizable |
| Conveyor Speed | 0.1 m/sec |
| UV Type | UV-C 254 nm Wavelength Non ozonizing glass bulbs |
| UV Life | 12,000 hours |
| Exposure time | 5 Sec |
| Construction | Steel outer panels; inner surface polished aluminum |
| Safety | Double curtain on both sides to prevent direct UV exposure |
| Power Consumption | Dependent on tunnel size, min 180 Watts |
IMPORTANT NOTE: ESSENTIAL TO ENSURE DIRECT EXPOSURE TO UV-C TO BE AVOIDED IN ALL APPLICATIONS ALL OPERATIONAL SOPS TO BE STRICLY FOLLOWED