Dhonaadhi Hitec Innovations
When it comes to supplying and distributing Fire, Safety and Security Equipments Safety and Security Equipments, Dhonaadhi Hitec Innovations has been a trusted and reputed name since 1993. Since its establishment, we have taken pride in supplying cutting-edge, high-quality Fire, Safety &Security equipment's to a large number of satisfied clients in Southern India. We value the dedication and devotion to quality and performance above all else, and our endeavors over the years has elevated us to a place of unparalleled repute and recognition in the surveillance systems domain.
With our offices at Chennai, Tamil Nadu, we have steadily been providing top-notch security equipment to companies and individuals all around southern India for more than 20 years. Dhonaadhi has been in the forefront to provide constant inspiration and come up with progressive surveillance and security solutions that safeguard your life and assets.
Our Team
At Dhonaadhi Hitec Innovations, we are completely committed to delivering quality products and service for all our customers. To deliver this servicing excellence constantly, we have built a passionate team of qualified professionals who are experts in their own fields and have the adequate amount of experience to bring excellence and commitment to our company. Our different teams comprise of professionals from different backgrounds who have excelled in their respective fields, and with our training and inspiration, and with experience, have become more productive and efficient over time. This has resulted in constant on-time and high quality delivery of servicing for our esteemed clients.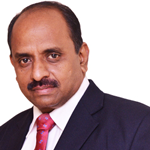 Mr. Krishnaraj
Managing Director
Procurement Team
These professionals constantly survey the market for the latest innovations and new technologies in the world safety and security solutions. They also maintain regular professional contact with trusted vendors and manufacturers, and are responsible for procuring the products and solutions that make up our catalog. With an eye for detail, a perception of technological advancements and a sense of customer needs and trends, our procurement team have truly put us in a position to compete at the highest level.
Technical Experts
The team of technical experts here at Dhonaadhi Hitec Innovations possess sound, in-depth knowledge about the technologies that are currently being used in the field of safety and security, and also detailed know how about new technologies that are being developed all around the world. The team imparts working knowledge of this technology to other teams, makes suggestions regarding procurement based on their collective recommendation.
Apart from these teams, a team of quality analysts assist in performing rigorous testing and quality checks to give us a catalog of products whose effectiveness is beyond doubt. Our team of supervisors takes care of day-to-day operations, and our marketing and sales team ensures effective sales and customer management.