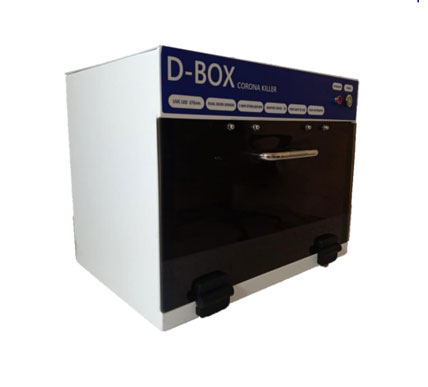 UV & OZONE BASED COVID-19 SANITIZER
NO MORE HAZARDOUS CHEMICAL CLEANING OF FRUITS, VEGETABLES, SMARTPHONE, LAPTOP, PENS, WALLET, TOYS, CLINICAL TOOLS, SALON TOOLS ETC. WHEN YOU HAVE LOKOZO
D-BOX.
In today's continuously changing environment, effective protection from the various infectious microbes is very important and necessary in our daily lives. The intelligent D-BOX simplifies the hazardous work and ineffectiveness of regular cleaning.
D-BOX incorporates unique patented design features that reduces work shadowing by achieving 99.99% bacterial kill in a minute. Simply wash items (tools, sponges, brushes, etc.), place them in the drawer, switch on the D-BOX. The UV light turns on and its ultraviolet germicidal irradiation (UVGI) disinfect the items inside. The UV light automatically turns off when door is opened.

CLEANS & DISINFECTS
Proprietary technology cleans and provides a higher level of disinfection than any other product on the market.

COST SAVING
Savings of 50% or more compared to alternative options.

TIME SAVING
Same day connections.

ECO FRIENDLY
Removes the need to use carcinogenic chemicals in the network.

24/7 AVAILABILITY
Our team are available 24 hours a day, 7 days a week to minimise customer interruption.
One-button sterilizing
360-degree disinfection
99.99% sterilization, non-toxic.
Auto-off when the lid is open, ensuring your safety.
Enclosure material: MS or SS.
Optional with OZONE Disinfection.
Built OZONE generator CAPACITY into the chamber with 0.1 ppm concentration in 2min exposer.
Adapter power supply, fast disinfecting.
Professional-grade UV disinfection, high efficiency.
With Inbuilt timer 2 Minutes
With Automatic Door Sensor
Lamp Type – UVC LED
Uniform distribution of UVC light is achieved at intensity 5mW/cm2 to 25mW/cm2.
The best wavelength level to disinfect, destroy the DNA structure of bacteria.
Ultraviolet rays and OZONE directly destroy the DNA of bacteria and destroy all bacteria.
UVC LED Driver Inbuilt
Wavelength: 250nm to 280nm
UVC LED life 40000 hours continuous operation
Optional built-in OZONE generator with air blower
Power ON Indicator Illuminated Switch
Operation Modes Indicated by LED
IP CLASS: IP20
Operating Voltage: 230 / 110VAC 50/60Hz
Warranty: 2 Years
COVID-19 DISINFECTION WITH UV:
D-BOX is a UV Sterilizer with a radiation chamber which emits Ultraviolet Germicidal Irradiation (UVGI) for disinfecting and preventing the growth of bacteria and viruses on the surface of the objects and tools.
UVGI are emitted from UV LED Light with ozone formation and has a long service life (average of 40000 hours). It uses narrow band UVC light which is highly efficient in targeting the DNA-disruption of pathogens and killing them.
The D-BOX is equipped with an alarm and a handle to open the door of the radiation chamber.
This device can be widely used at Homes, Hospitals, Pharmacy, Chemical Factory, Food Industry, Catering Services etc.
It is also suitable for portable salon tools and other metal tools and instruments.
UV STERILIZATION PARAMETERS:
Lamp Type – UVC LED
UVC LED Driver Inbuilt
Wavelength: 250nm to 280nm
UVC LED life 50000 hours continuous operation
Operation Modes Indicated by LED
Uniform distribution of UVC light is achieved at intensity 5mW/cm2 to 25mW/cm2.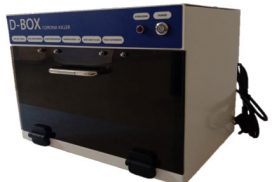 WHAT IS OZONE DISINFECTION?
One common method of disinfection is ozonation (also known as ozone disinfection). Ozone is an unstable gas that can destroy bacteria and viruses. It is formed when oxygen molecules (O2) collide with oxygen atoms to produce ozone (O3).
Ozone is generated by an electrical discharge through dry air or pure oxygen and is generated onsite because it decomposes to elemental oxygen in a short amount of time. After generation, ozone is fed into a down-flow contact chamber containing the wastewater to be disinfected. From the bottom of the contact chamber, ozone is diffused into fine bubbles that mix with the downward flowing wastewater. Ozone disinfection is generally used at medium- to large-sized plants after at least secondary treatment.
Ozone is extremely effective at removing odors through molecular oxidation. Lesser known is its efficacy as a disinfectant, for which it has been used effectively in the medical field for many years. A powerful gas capable of high levels of disinfection, ozone can be very effective at killing pathogenic bacteria and fungi, as well as for inactivating viruses. The focus of this article is the use of ozone as a virucide, with emphasis on the SARS-CoV-2, which, according to the International Committee on Taxonomy, is the accurate name for what is commonly referred to as the COVID- 19 coronavirus, and is how it will be referenced in this article.
Dr. Gérard Sunnen is a medical doctor in New York City, specializing in the uses of ozone in the medical field, ranging from cutting-edge ozone therapy to the use of ozone as a disinfectant. According to Dr. Sunnen. "Ozone has unique disinfectant properties. As a gas, it has a penetration capacity that liquids do not possess. In view of the fact that , SARS-CoV-2, MERS, and previous SARS strains persist on fomites (surfaces) for up to several days, it is suggested that ozone technology be applied to the decontamination of medical and other environments".
"Typically, viruses are small, independent particles, built of crystals and macromolecules. Unlike bacteria, they multiply only within the host cell. Ozone destroys viruses by diffusing through the protein coat into the nucleic acid core, resulting in damage of the viral RNA. At higher concentrations, ozone destroys the capsid or exterior protein shell by oxidation" explains Dr.Sunnen. Further, "most research efforts on ozone's virucidal effects have centered upon ozone's propensity to break apart lipid molecules at sites of multiple bond configuration. Indeed, once the lipid envelope of the virus is fragmented, its DNA or RNA core cannot survive".
Every technique has its specific advantages and its own application area. In the table below some of the advantages and disadvantages are shown. Attributes for each technology are ranked from 1 (weak) to 5 (strong):
| TECHNOLOGY | OZONE | UV | CHLORINE DIOXIDE | CHLORINEGAS | PERACETICACID | HYPOCHLORITE |
| --- | --- | --- | --- | --- | --- | --- |
| Environmentally friendly | 5 | 5 | 3 | 1 | 2 | 1 |
| By-products | 5 | 5 | 2 | 1 | 2 | 1 |
| Efficiency | 5 | 3 | 3 | 2 | 2 | 2 |
| Investment | 2 | 3 | 4 | 4 | 4 | 4 |
| Operational costs | 5 | 4 | 3 | 4 | 4 | 4 |
| Fluids | 5 | 4 | 5 | 3 | 3 | 3 |
| Surfaces | 5 | 5 | 1 | 1 | 1 | 1 |
| Residual disinfection | 3 | 1 | 5 | 5 | 4 | 5 |
| Handling | 5 | 4 | 3 | 3 | 2 | 2 |
| Score | 40 | 34 | 29 | 24 | 24 | 23 |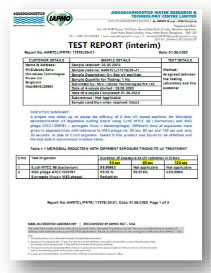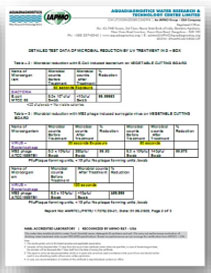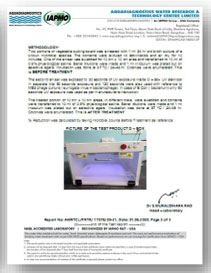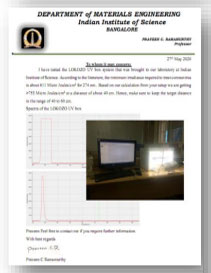 FEATURES
POWER RATING
CAPACITY
(Liters)
Enclosure
Material
INTERNAL SIZE
Wcm x Dcm x Hcm
EXTERNAL SIZE
Wcm x Dcm x Hcm
WEIGHT
SANITIZING
STAGE
UV-DBOX-5-M
5W
5 L
MS
35x24x97
35x25x18
2Kg
UVC
UV-DBOX-10-M
8W
10 L
MS
35x24x14
35x25x22
2.9Kg
UVC
UV-DBOX-15-M
10W
15 L
MS
35x24x19
35x25x27
3.5Kg
UVC
UV-DBOX-20-M
12W
20 L
MS
35x24x23
35x25x32
5.5Kg
UVC
UV-DBOX-40-M
24W
40 L
MS
45x29x31
45x30x40
8.1Kg
UVC
UV-DBOX-80-M
45W
80 L
MS
45x29x45
45x30x45
12.2Kg
UVC
UV-DBOX-100-M
50W
100 L
MS
40x40x56
45x40x56
12.5Kg
UVC
UV-DBOX-150-M
80W
150 L
MS
50x50x54
50x55x62
16.0Kg
UVC
UV-DBOX-200-M
100W
200 L
MS
50x50x74
50x55x83
18.1Kg
UVC
UVO3-DBOX-20-M
12W
20 L
MS
35x24x23
35x25x32
5.5Kg
UVC+OZONE
UVO3-DBOX-40-M
24W
40 L
MS
45x29x31
45x30x40
8.1Kg
UVC+ OZONE
UVO3-DBOX-80-M
45W
80 L
MS
45x29x45
45x30x45
12.2Kg
UVC+OZONE
UVO3-DBOX-100-M
65W
100 L
MS
40x40x56
45x40x56
15.2Kg
UVC+ OZONE
UVO3-DBOX-150-M
100W
150 L
MS
50x50x54
50x55x62
18.2Kg
UVC+OZONE
UVO3-DBOX-200-M
150W
200 L
MS
50x50x74
50x55x83
20.2Kg
UVC+ OZONE
UV-DBOX-5-S
5W
5 L
SS 304
35x24x97
35x25x18
3.2Kg
UVC
UV-DBOX-10-S
8W
10 L
SS 304
35x24x14
35x25x22
4.9Kg
UVC
UV-DBOX-15-S
10W
15 L
SS 304
35x24x19
35x25x27
5.8Kg
UVC
UV-DBOX-20-S
12W
20 L
SS 304
35x24x23
35x25x32
7.5Kg
UVC
UV-DBOX-40-S
24W
40 L
SS 304
45x29x31
45x30x40
11.2Kg
UVC
UV-DBOX-80-S
45W
80 L
SS 304
45x29x45
45x30x45
14.8Kg
UVC
UV-DBOX-100-S
50W
100 L
SS 304
40x40x56
45x40x56
15.9Kg
UVC
UV-DBOX-150-S
80W
150 L
SS 304
50x50x54
50x55x62
18.7Kg
UVC
UV-DBOX-200-S
100W
200 L
SS 304
50x50x74
50x55x83
20.5Kg
UVC
UVO3-DBOX-20-S
12W
20 L
SS 304
35x24x23
35x25x32
3.9Kg
UVC+ OZONE
UVO3-DBOX-40-S
24W
40 L
SS 304
45x29x31
45x30x40
5.7Kg
UVC+OZONE
UVO3-DBOX-45-S
24W
45 L
SS 304
45x29x31
45x30x40
6.8Kg
UVC+ OZONE
UVO3-DBOX-80-S
45W
80 L
SS 304
45x29x45
45x30x45
8.5Kg
UVC+OZONE
UVO3-DBOX-100-S
65W
100 L
SS 304
40x40x56
45x40x56
12.1Kg
UVC+ OZONE
UVO3-DBOX-150-S
100W
150 L
SS 304
50x50x54
50x55x62
15.7Kg
UVC+OZONE
UVO3-DBOX-200-S
150W
200 L
SS 304
50x50x74
50x55x83
16.8Kg
UVC+ OZONE